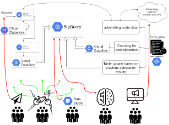 Serverless data collection platform with Google Cloud (PubSub, Dataflow, BigQuery)
The initial aim was to Collect real-time and batch data about user actions copied from Google Analytics tracking code and Pipeline unsampled, non-aggregated data to Bigquery using PubSub and Dataflow. This solution should replace an existing pipeline created using OWOX Pipeline.
During development more requirements related to different data aggregations and integrations was added and implemented. Including importing data from different advertising platforms and visualizing aggregated reports in Google Data Studio.
Data Mining & Management: 
Google Data Studio, Servlet, Java, Google Web Toolkit, Google App Engine, Google Analytics API, Google Analytics, Google Dataflow, Google Cloud Platform, BigQuery